Thursday 17th October 2019
Steve is a good old friend of Blackcountry woodturners we last had the pleasure of his company in September 2016.
Steve has not been too well of late but fulfilled his promise to the club to come and entertain us once again, for this we are very grateful, and very happy to have you back.
Steve's project for the evening was a dried flower vase, starting with a flat piece of pine approx. 6 inches wide by 12 inches long, the intention was to keep the lower portion of the vase rectangular, this section of the piece would later be textured, sprayed black and then rubbed back, to again expose the natural wood, this then contrasting with the turned foot and vase neck.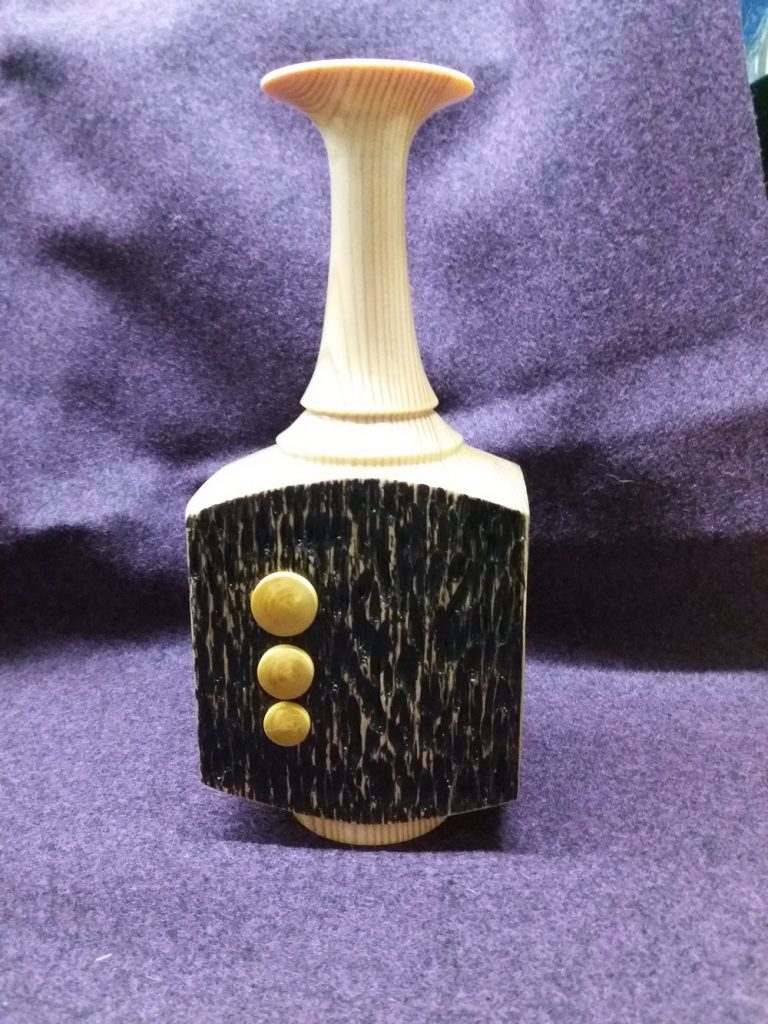 Steve identified that this was one of his own creations unique to him, that he had been making for some time; he identified how the piece would usually be made with square stock but the rectangular style added another dimension to the overall finished product.
Steve initially mounted the stock into the lathe and proceeded to turn the opening of the vase then beginning to shape the neck area.
Steve very carefully described and demonstrated the" Pommel cut" that adjoins the main body to the neck area, he demonstrated how to approach the cut with both a bowl gouge and skew chisel, stating that without doubt this was the hardest cut on the project to get correct but if done well helps to set the piece off, Steve then went on to complete the final shaping of the neck to the main body area.
Having completed the top half of the vase and rough shaping of the foot, he turned the piece round to complete the foot detail as this gave better tool access.
Steve then progressed to texturing the main body of the piece using an electronic hand held grinder with Arbourtech cutting wheel attachment, texturing all four of the flat sides, once complete, the texturing and corners were sanded smoother to remove the raised and torn out grain, this was then covered with a light spray of sanding sealer and over sprayed with chestnut ebonising lacquer, then when dry rubbed back the high points exposing the natural wood.
The piece was then finished off with the addition of three box wood buttons, fitted into three pre drilled holes in the main body.

The evening drew to a close with the audience giving Steve a wholehearted round of applause for a fine evening of entertainment.