Thursday 21st November 2019
For Novembers meeting we had the pleasure of Richard Ross, regional area manager from Wessex Resins and Adhesives, who are based in Romsey in Hampshire.
Wessex Resins and Adhesives have been developing and manufacturing high-quality epoxy products since 1981. During this time the company has worked with a large range of organisations that demand specialist formulations, including the Ministry of Defence, London Underground, Bombardier and BAE Systems, the company have in recent years been developing a range of general pouring resins, suitable for numerous applications including the professional and hobby craft arena.
Richard began the evening with a very interesting history of how the company Wessex Resins began by two brothers from humble beginnings in the early 1980's, its continual development to, todays achievement where it has a substantial product range covering a worldwide market for many diverse industries.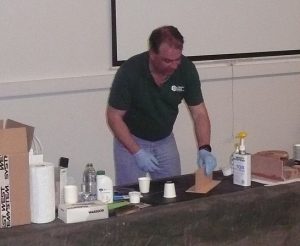 Richard distinguished the differences between epoxy resins and polyester resins, describing their advantages and disadvantages; he described exactly what an epoxy resin is, being a bi product of the petro chemical industry, and highlighted to the audience how the industry in general is working very hard to make resins a "Greener" more sustainable product.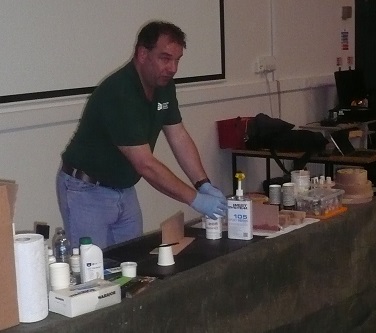 Richard then went on to discuss, demonstrate and mix a range of resins and adhesives, establishing and emphasising the need to measure the resin and hardener in the correct proportions and mix meticulously for at least two minutes allowing the chemical compositions to bond together properly. His demonstration of what happens when proportions are mismatched was an eye opener.
Richard encouraged and fielded a lot of questions from the audience throughout the whole evening who were eager to fill their subject knowledge gaps.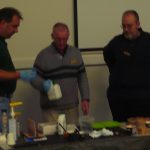 After the break Richard invited anyone to go up to the demonstration table and have a go at mixing and pouring and experimenting with the resin products.
Steve Hackett had kindly prepared some bowl/platter blanks by drilling holes around the perimeter to be filled with resin for the Christmas raffle where lucky winning members will take away to practice on.
Several other members also brought in items for discussion with Richard on how to progress with project ideas or simply fill with resin to have a go with at a later time.
Sadly the meeting had to be drawn to a close at around 8.45pm with audience members still keen to gain product knowledge.
Richard was given a warm and appreciative round of applause for giving up his time to educate and entertain us all.
The club wishes to thank Richard for a great evening and hope he will come back to entertain us at some future time.
Hopefully in the months to come we will see resin based projects appearing at our meetings.
For product information, Wessex Resins company web sites being