John is the owner of Ashwood Nurseries, and has his private, landscaped garden right next to it. He holds open days 3 or 4 times a year, and usually with a good attendance from the general public. The Black Country Woodturners generally participate with a stall on the summer open day, and so we did again this year.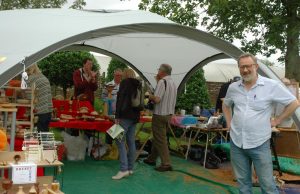 A large open tent was erected, with various stalls inside, including a small lathe for demonstrations, and a charity table right next to it. We had about 10 club members in attendance, so there was plenty of variety.
The weather threatened with rain all day long, but it never did actually rain, so were quite lucky in this regard. However, the garden is right on the banks of the river Stour, and in consequence there were plenty of tiny little midges around, not enough to drive people away, but certainly enough to be a nuisance for us at the stalls.
John's garden has a huge variety of plant species that you would otherwise only find in a botanical garden, but let me tell you, we could almost match it with the variety of work on show!
Unfortunately, sales were quite low, only the charity table produced some good results. The author of this article didn't sell anything, and it was very similar for most other club members.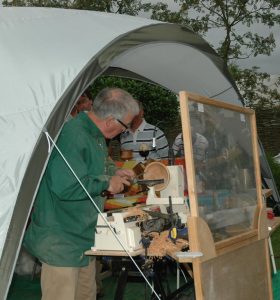 On the other hand, our demonstrations on the little lathe gathered quite a bit of interest, and we may even see some new club members coming from this event.
Here you can see Melvin putting the finishing touches on a 8″ cherry bowl, and yours truly proceeded to make a yo-yo and a bud vase, which promptly sold from the charity table for £5.
All in all, a nice day out for the club, and well received by the attending public.