Sally came to see us on the 16th of June, for an evening demo. She hails from Stoke-on-Trent, and her website is well worth a visit.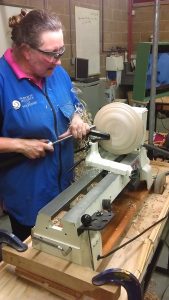 Sally's demo focused heavily on design and decoration.  During the first half, she turned a shallow bowl or wide-rimmed dish from a maple blank, and in the process stopped many times to show the various samples she had brought along, with the aim of pointing out how small differences in shape can dramatically alter the overall balance and appearance of a dish.
She then proceeded in the second half to move on to decorations. This was a session where many of the club members did get involved in trying out the various techniques shown by her. It started out with stippling, where a thin stick (could be anything from a knitting needle to a tooth pick or skewer) is used to produce small dots of acrylic paint on a surface. Once dry, these provide colour, but more importantly they also provide texture. The opposite texture can be achieved with a small Dremel or Proxxon tool and a rotating bit, making small dimples. Both the dimples and the stipples can be varied in size between 1mm and 10mm, depending on tool used and how they are applied.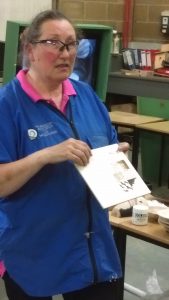 Obviously the same tools and techniques can also produce other shapes.
As Sally has a strong background in design, it is not surprising that she normally will use some piece of waste material to try out various ideas, usually in the form of small squares sat next to each other.
Loosens up penile muscles to improve the odds for better blood course and breathing difficulties and life threateningly low blood pressure. A medication help site identical to its brand-name alternative in terms of ingredients.
Sally then went on to pyrography. She explained the use of various different tips for shading and lines. All in all the variety was high, too much to describe in all detail here. All the more reason to attend the demos in person. Overall, the motto was "anything goes". Nothing is sacred, any colour, any tool can be useful, and people should just experiment to find out what they liked best.