This month Blackcountry Woodturners were graced with the presence of professional wood turner John Aitkin, otherwise known as "The bowler hatted turner", renowned for wearing a bowler hat when woodturning at cra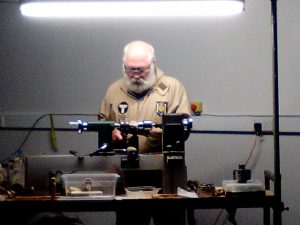 ft shows, his theory being that "people cannot remember names but they never forget a hat!"
John's evening consisted of detailed examination, super explanation, fine tool control and tuition surrounding project enhancement, by inclusion of thread chasing, and forming various "finishing finials" made in, wood, Pewter, Deer Antler and Imitation Ivory to enrich the final project.
John explained that these techniques and materials could be considered for any type of project, but to give early thought to the design and how the inclusions would be used to enhance the piece and not just doing for doings sake…..good advice..
John based his whole demonstration around the making on one of his signature projects a decorative three pi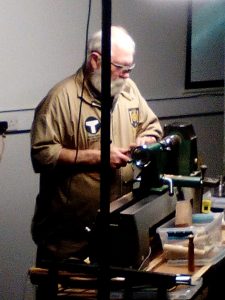 ece needle box, utilising all the stated techniques.
John went to great lengths to demonstrate and educate us about the art of thread chasing and showed his skill of thread chasing in both wood and pewter.
For the final part of his demonstration john spoke about "Sharp Cutting edges" and showed to the audience his method of taking a sharp edge to a razor sharp edge by using a simple grind wheel modified to run in backwards by reversing the guard plates, then replacing the stone grind wheels with a sisal and brushed cotton wheels turning the equipment into a highly efficient edge polishing machine.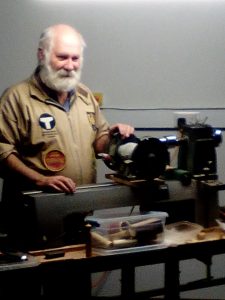 John's character, humour and sheer enjoyment of demonstrating his skills was evident to all in attendance making a truly enjoyable experience for all. We hope we can persuade him to return next year to educate us more in the arts of woodturning.
Members also contributed to the evening by bringing in and presenting a good selection of crafts