On Thursday last week we had Robert Till as our demonstrator. He has done a demo before, at our old venue, where he showed us how to make a turned bird's house. This time he demonstrated his rocking bowls. They are mostly made from ash or oak, as the open grain in these timbers allows for the kind of surface decoration he is aiming for.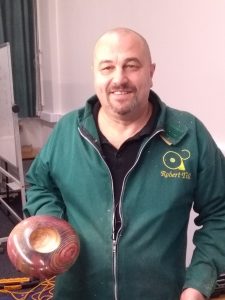 It all starts out with a blank about 8″ in diameter and 3″ thick. A drill provides a hole for the screw chuck and, once mounted, the out side is squared off, both on the flat underside and the rim. A centre mark is made on the rim to ensure the final bowl has equal curves on top and bottom (although I suspect this could easily be altered for variations of the form), and then the underside is turned into a gentle curve towards that mark. This curve must always allow for a small, but precise tenon.
Robert demonstrated using pull cuts for the shaping, and then putting the handle right down and closing the flute on his bowl gouge to perform a very gentle shear scrape. In this manner he gets a surface that needs very little sanding.
The bowl is then reversed into the chuck, and a similar curve is applied to the top. For the sanding he uses Rhinogrip, and he always makes sure to only ever use any particular spot on the sanding paper once, folding away used pieces as he goes along. His surfaces are sanded to 600 or 1000 grit. He then showed two different methods of finishing the top.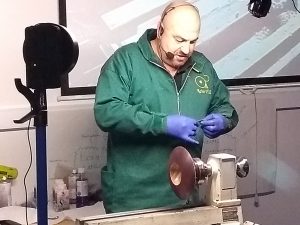 For the first method, he applied a thin film of Chestnut ebonizing lacquer to provide a simple black surface. On top of this is then applied some gilt cream, also from Chestnut, which is rubbed well into the surface and in particular into the grooves left by the annual growth rings. Once the entire surface has been covered, a paper cloth and some finishing oil are used to remove any excess, leaving behind only the cream in the recesses, and thereby dramatically enhancing the figure of the wood. This is left to dry, and the final finish are up to a dozen layers of finishing oil, applied one coat per day (or slower). Once the wood has been saturated with oil, it starts to build up a nice coat on top, which does not need buffing.
The second method of decoration was done with the coloured spirit stains from Chestnut. He first rubbed the entire surface with a purple colour, and then carefully sanded that back until most of the high points were left in natural again, and only the grain recesses showed colour. He then used paper cloth to apply dabs of colour in a pattern to enhance any natural features of the wood, and finally blended them all together with finishing oil.
A very instructive demo aimed at mid-level turners, and well delivered. Our display table was well stocked, and we had 26 members and one visitor in attendance.