Augusts meeting was another hands on event, we had the welcome return of Keith Drew to the club who had been persuaded to come and demonstrate the technique of making a shell pattern form.
Keith picked this technique up from a demonstration he attended some time ago, and over time has developed his own way of completing the project, the very simple explanation being that the blank is set up inside a pre made and marked up template, this is then used on centre to make the central decoration then off set against the pre-determined marks to form the final shell like fin decoration. The final product looks great when all finished, and can be utilised as an ornament on it's own, or incorperated into another project, it is quite a complex piece and provides a challenge to the more advanced turner.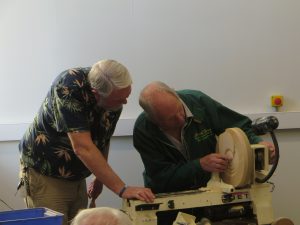 Keith set up his demo, showed us the way it should be done then under Keith's         Guidance several members had a go, definitely more tricky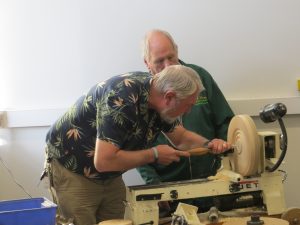 than Keith made it look, this was a very interesting first half to the evening, something unusual and much enjoyed by those in attendance. We would all like to thank Keith for giving up his time to educate us all.
The evening then provided additional inputs from Wolfgang on the lathe Goblet Turning, and by Bob Mercer showing us all the correct way to strip and clean a chuck…….
Members work displayed during the evening